Paul Wilbur
Worship Leader
Singer/Songwriter Paul Wilbur has been leading worship and ministering for over four decades in over seventy-five nations. Millions have bought his albums and learned how to connect to God and enjoy His presence over the years. Paul received a Dove Award for best live praise and worship album of the year, ministered in thousands stadiums or churches, and has sung on hundreds of television shows. You may already be one of his over 620,000 followers on Facebook!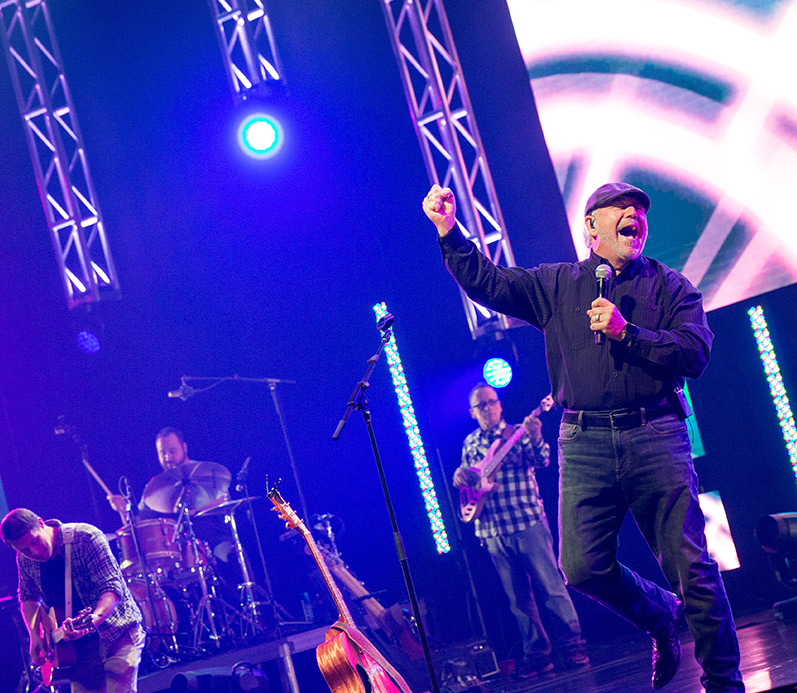 So what will your ministry experience by having Paul lead worship for you? Encouragement, anointed worship from one of the world's foremost Messianic voices, and inspiration to press forward in Jesus are good starters. Paul's heart is to stir your church to a point of action, because he is not content merely to entertain them. Invite Paul Wilbur to your church or ministry and expect a Holy Spirit encounter!
PAUL WILBUR'S BIO
Paul Wilbur has been a worshiper for over four decades and has been a traveling musician for over 45 years. After he accepted the Lord Jesus Christ as his Savior, he experienced a radical change. The very next day Paul wrote his first worship song, and he has never turned back to secular music.
Paul Wilbur and his team have partnered with Integrity Music for an astounding 20 years. The journey began with the company's first Messianic project entitled "UP TO ZION", recorded in Chicago, Illinois in 1990. From there, the real legacy continued with the breakout recording, "SHALOM JERUSALEM", captured live in the City of David in 1995. To date, the ministry has recorded four live projects in Israel, two in Texas and one in Florida. With award-winning sales in the millions of pieces and a Latin Dove Award for best live praise and worship album of the year, there is no end in sight for this growing team. Paul has recorded some 20 projects with Integrity in four languages, and the ministry has been seen in over 90 nations worldwide.
In the fall of 1994, Paul was finishing up his fourth year at Midwest Christian Center in Tinley Park, IL, when the Lord spoke to him very clearly and said, "Ask of me and I will give you the nations…" That brief invitation put Paul's life and future on a whole new course. After much prayer, fasting and soul searching, Paul and Luanne announced their departure from local pastoral worship ministry to answer the call of God to the nations.
 After selling their home, cars, furniture and Baldwin piano, they headed out to do what the Lord had offered them a few short months before. The first phone call of their new lives came from none other than Don Moen of Integrity Music. First, the invitation was to record a new project in the land of Israel. Second, Don wanted to know if Paul was available to do a two-week tour with him in the Philippines. That was the beginning of the ongoing international, cross-cultural, multi-lingual ministry that continues to this day. Two live recordings in Portuguese from Brazil; eight in Spanish, two captured live in Guatemala, Costa Rica, Ecuador and Honduras, and four more recorded live in Israel.
The most dynamic way that Wilbur Ministries is "changing the way the world worships" is through the medium of concert ministry. When deep streams of worship are married with anointed and timely teaching and preaching, the atmosphere is changed and heaven is present. Prayer and personal ministry are often employed as well to bring the entire room into an encounter with the Living God. An evening of concert ministry with the team is meant to be life-changing and not just a nice experience. Wilbur Ministries truly believes that the Lord inhabits the praises of His people, and in that presence is fullness, and joy.
What Others Are Saying
Paul Wilbur has been blessing me with his ministry for over thirty years—a wonderful man of God, a great minister of the Lord's presence, worship, music, and the word…and a good friend.

New York Times best-selling author of Harbinger and Mystery of the Shemitah

In this stirring book, world-renowned worship leader Paul Wilbur gives an eye-opening and inspirational charge to the people of God: Look at the Scriptures; look at the increasingly chaotic state of the world; look at the outpouring of the Spirit in the nations, while much of the Church of America slumbers in compromise; look at the rising tide of hatred of Jews and Christians around the globe; look at how God continues to unfold His promises to Israel—and then lift up your eyes, and look to the King in adoration and expectation. He is coming soon!

Host, the Line of Fire radio broadcast | Author of Answering Jewish Objections to Jesus

For many years the Holy Spirit has been releasing life-changing messages to the body of Christ through Paul Wilbur. He not only brings fresh revelation from God, but he shares how it applies to his personal life. His transparency makes his messages real to us on an experiential level. I consider it a blessing and privilege to call him a friend and have an opportunity to hear his teachings and anointed worship on a regular basis. I highly recommend that others avail themselves of Paul Wilbur's ministry so they too can experience fresh revelation and insight that will impact their life for eternity.

Word of Life Ministries Florida| New York Campuses
Upcoming Events
[add_eventon_list number_of_months="2″ event_count="5″ ]
Experience Paul Wilbur in Action