Blessings and very warm greetings to you from the Philippines! We are now more than half way through our two week, five city tour and I wanted to give you a first-hand report from the field.
Let me begin with this statement…the presence and power of God is evident to all! At each stop we are met by thousands of people who are eager to hear and worship.
After flying and transferring on three planes for more than 30 hours, we arrived in Manila. A short night of sleep and we were back up at 4:30 a.m. to fly again, this time to Davao in the south islands. Yes, I was battling my flesh about the time on planes, the lack of sleep and rest, but the worship and His presence has made it all worth it!
Our first night was explosive! Somewhere around 3,000 people joined us to celebrate and worship the King. A local choir, dozens of dancers, banners and flags, shofar players…I really wish you could hear the sound of the nations worshiping. Many times during the hours of worship and ministry, I stopped singing and simply listened.
I was brought to tears hearing the voices of thousands, and I recalled in my heart just why I was here.
As I tried to express my feelings to the people, I was overcome with the realization that I was living a vision the Lord gave me many years ago. Back in 1994 we were serving on staff at Midwest Christian Center in Tinley Park, Illinois with Pastor Robb and Linda Thompson. During an intense worship time there, the Lord spoke to me very clearly and said, "If you would ask me, I would give you the nations as an inheritance for you!" I asked and He gave! Very soon after that experience the phone rang and Don Moen invited me to make a live recording in Jerusalem. That record, "Shalom Jerusalem," went around the globe many times and the nations have been our worship team ever since!
As we approached the close of the evening there in Davao I opened the alters and invited people to come for salvation, healing, whatever they needed. We had a large number of pastors from the city to help pray for the people, but something unusual happened. As they came forward in large numbers for prayer, it seemed they hit an invisible wall just where the chairs ended in front of the stage. They would come so far and then fall on their knees, or simply sit on the floor and worship.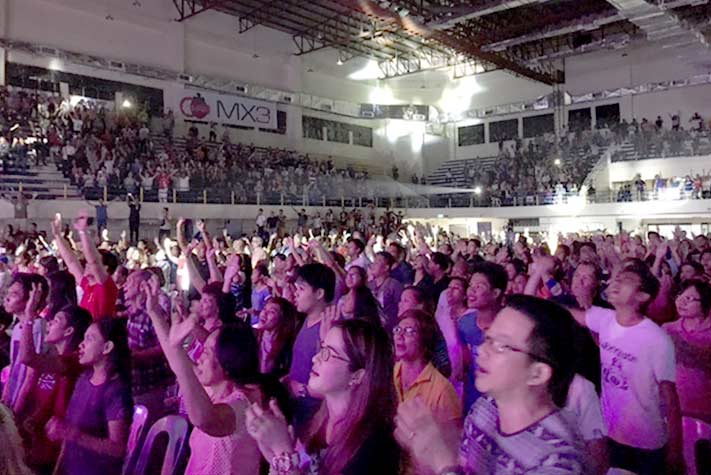 It was as if they came under a weight, a glory, and couldn't move any further.
I have taught about the Hebrew word "K'vod" as the word for glory. It is the manifest weight of His presence. Teaching is wonderful, but it is an entirely different world when you experience it!
The Lord said to me recently that a declaration without a demonstration or a manifestation is simply words; a cloud without rain, a promise unfulfilled.
This is our purpose and reason for traveling the world: to help the nations experience the manifest presence and glory of the Living God. To hear His voice, see His face, and complete the mission.
YOU empower us to do just that! Your faithful giving and prayer sends us on the wings of the Spirit to bring all this and more to the hungry and thirsty souls of the world; to the Jew first, and also for the nations.
Tonight we are in Tuguegarao. Never heard of it? How about Bacolod, Baguio City? We go where others won't, to do what others can't, to change the way the world worships. Together, we are fulfilling a heavenly mandate to manifest Yeshua and make His name glorious.
I bless you from our small hotel in the Philippines, and I pray the Lord who called you and gave you life will bless you and keep you!
Will you help send the message of Messiah to the nations? Paul Wilbur Ministries is a faith-based ministry that relies on the faithful giving of partners to carry this to the ends of the Earth. Please consider donating here.
We also greatly appreciate your continued prayers as we traverse the globe in Yeshua's name. Blessings to you all!