We had another episode of our First Friday celebration on April 7th. We focused in on Passover as the first feast of the Biblical calendar was only a few days away. The message was titled, "The Mystery of the Matzah" and as you can guess, the matzah was the star of the evening.
I am always moved by the removal of the middle sheet of matzah, describing it's condition as striped, pierced and bruised, and then breaking it in two and wrapping the afikomen to be brought back after the meal. This year was no different, except that I had a special revelation about the resurrection and the power of the bread after dinner.
As we all partook of the afikomen and the third cup, many folks there indicated that they had been healed in the process. One lady was so excited about her healing that she was jumping up and down for joy…with no pain! It's always exciting to see the Lord meet people at their place of need during these times!
In addition to celebrating Passover, we launched my new book, A King is Coming, as well as announced our winners of the Paul Wilbur Weekend Experience.
To view the full video of First Friday and the Grand Prize winner announcement, you can visit my YouTube Page here. https://youtu.be/zaij0-0bJhg.
After our celebration and book signing, I drew the names of the second and third place winners. You can view that video here: https://www.youtube.com/watch?v=3jESOoIWfCI.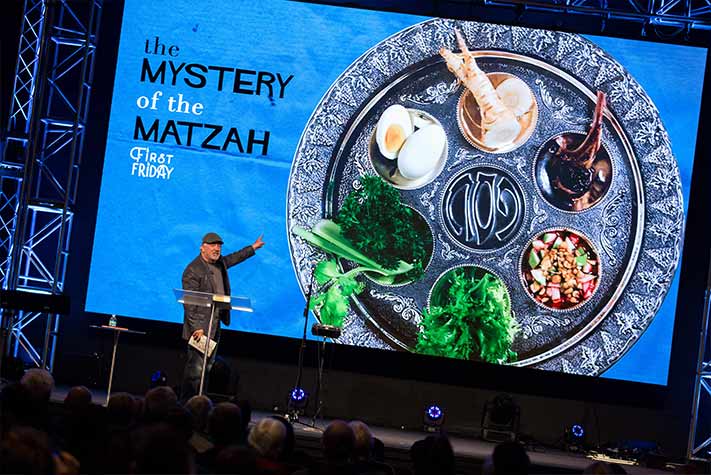 Congratulations to all the winners, and a big thank you to all who participated!
Last week I was in Dallas, Texas and Bradenton, Florida to complete our Passover celebrations this year. At this moment, my team and I are meeting in the Philippines for a five-city tour over two weeks. Yes, these are busy days, but the fruit is so abundant that we cannot stop! Special Passover blessings to you and your whole household!